"The 'weighty hug' is real. I thought a weighted blanket was only for those with sensory issues, but I found myself using it more frequently - especially in the winter."
We created the NiteKite weighted blanket for those who have heard about them, but are still sceptical of using one.

If you struggle to sleep, but don't know why, then changing your bedding could be one of the best things you do for yourself, in the fight against poor sleep.

When you sleep well, you wake up more confident. And when you wake up confident, each day becomes better and less of a, well, weight on your shoulders.
All New Zipper Replaces Loop-and-Tie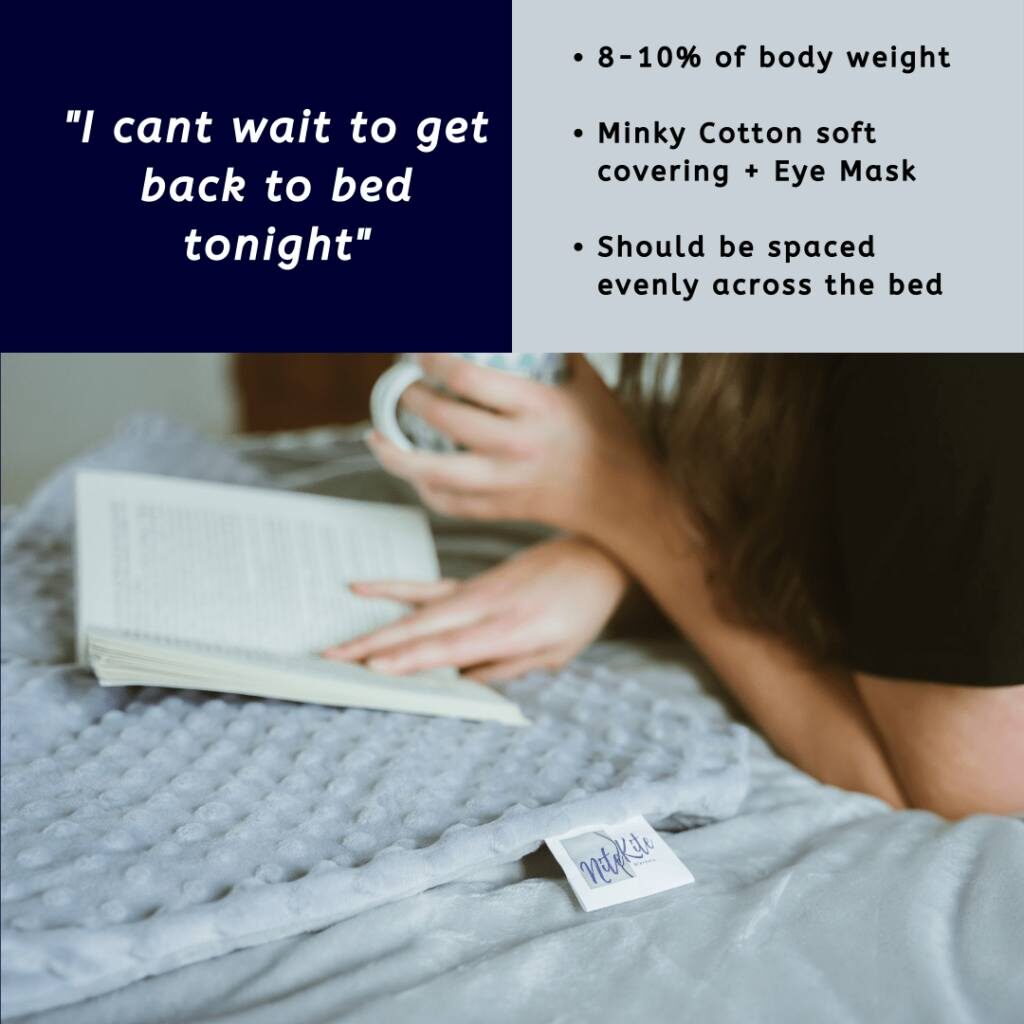 Made from 100% cotton with a plush outer cover, your NiteKite woven weighted blanket is available in 7kg, 9 kg & 11kg, designed to flow around each and every body type. 7 layers combine to produce a blanket that gives you a warm, anti-stressed feeling so many people in the UK and around the world are now enjoying.
NiteKite 90 Day Experience
We want sleep improvement to be a journey, and every journey is different.

Try our weighted blanket, for a month. Still adjusting? We have an extended 90 day period for you to see if it's for you, if not, return with no questions asked.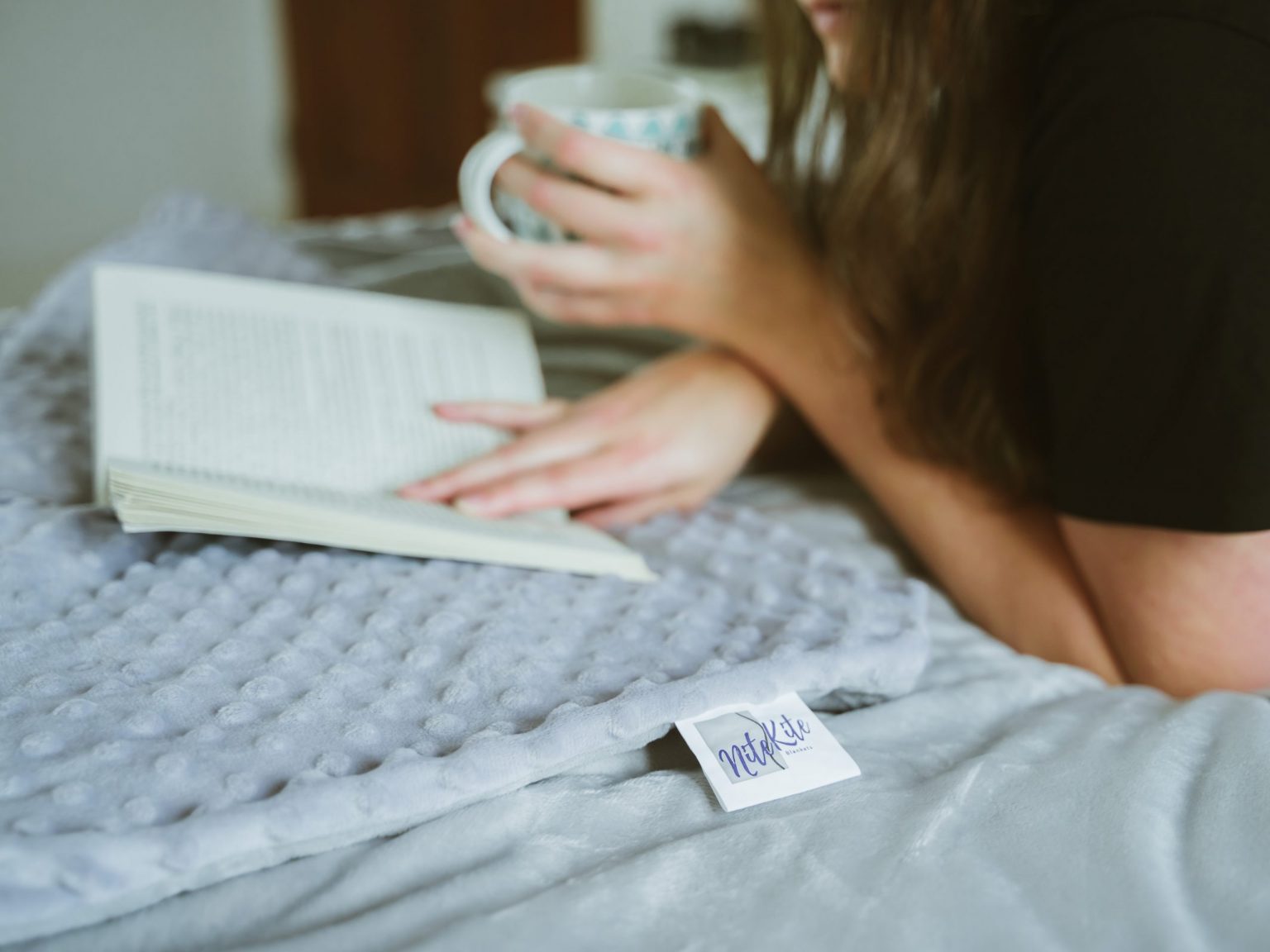 We relax when our mind allows our body to submit to the sleep we've been craving. Our uniquely designed weighted blankets offer something for everyone, and come in a natural knitted look or the DreamZip blanket combo.
Less Movement, Better Sleep
When we lie in awkward positions, it's proven that our sleep is lighter and of lower quality. This prevents you getting the right amount of REM sleep which is the phase which provides the most recovery. Using a weighted blanket slows your body down and increases the chances of deep sleep.
Many weighted blankets in the UK use low quality, plastic pellets that shift and sink to the bottom of the blanket over time. We use eco-friendly, premium-grade polyethylene beads, in a grid formation meaning they stay in the place they were assigned, forever.
The effects of the NiteKite weighted blanket last far beyond the time spent sleeping. Deep Pressure Stimulation has lasting benefits, including reduced stress and a relaxed mindset that improve your mood with each day. Small wins build up over time.
The benefits of a weighted blanket
What is a weighted blanket ?
A weighted blanket is a heavy blanket that is designed to try and create better sleep and sometimes used by occupational therapists to provide 'Deep Pressure Therapy (or Deep Touch Pressure)' to help with anxiety.
Are weighted blankets hot ?
Under the bed covers can get hot in especially during the summer, but weighted blankets try to combat this by using 100% cotton allowing for a more breathable airflow.
How heavy is a weighted blanket ?
Weighted blankets in the UK for adults typically weigh between 7 – 11kg (15 – 24 lbs) compared to an average goose down duvet which weighs between 700g (1.5lbs) and 850g (1.88lbs).
Can a weighted blanket help with insomnia ?
Yes. Insomnia can happen for a number of reasons, for some it is temporary and not a chronic issue. The NiteKite is designed to reduce movement and shuffling to calm the mind.
How does a weighted blanket help with anxiety ?
Weighted blankets were designed to provide Deep Pressure Therapy to help children on the autistic spectrum sleep easier. Mainstream research showed that the sensation of a "hug" is enough to slow brain activity down and ease mental health issues when trying to sleep, including anxiety.
How do i choose the right weight blanket ?
Research on the effectiveness of weighted blankets advises the user to pick near to 10% of their body weight for the best results. However, at 7kg the average blanket is over 10 times as heavy as a regular duvet and should be a good starting point.
HOW DOES THE 90-NIGHT TRIAL WORK ?​
As part of our promise, we want you to be happy with your purchase. Weighted blankets are growing in popularity in the UK, but everyone has their preferences. If you don't want it after 90 nights, simply send your weighted blanket back for a full refund.
IS IT JUST FOR SLEEP PROBLEMS ?​
Not at all. Some users have discovered that the sensation of Deep Pressure Therapy is one they had been missing out on! Weighted blankets can lead to easier, faster sleep, which many will benefit from.
Sleep Product Reviews
So you've been following the hype surrounding weighted blankets, reading the reviews and learning about
Read More »